Acerca de Wellness One of South Bergen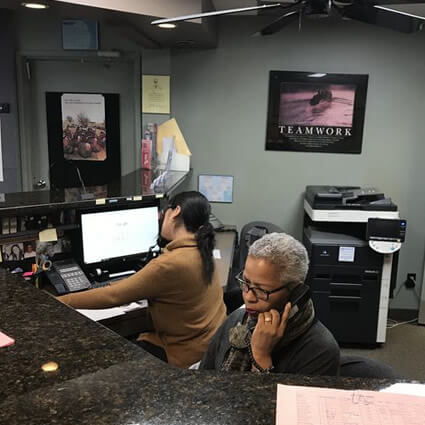 Bienvenido a Wellness One of South Bergen, su centro de bienestar del Condado de Bergen con atención a la quiropráctica, terapia física, acupuntura, nutrición y terapia de masajes para nuestros pacientes durante más de 35 años.
Los Doctores Elliot y David Foster han unido un equipo de profesionales que se especializan en atención excepcional, con el objetivo de maximizar la salud del paciente para ayudarlos a sentirse mejor y mantenerse así por más tiempo. Algunos de los problemas más comunes que nuestros pacientes han mejorado son, dolores de cabeza, dolor de espalda, dolor de cuello y casi cualquier lesión relacionada con accidentes. Utilizamos tratamientos naturales y efectivos que no son invasivos, para coordinar un programa de bienestar general que garantice que su cuerpo funcione a su capacidad máxima. Además de aliviar el dolor, todos nuestros profesionales apoyan a nuestra filosofía con respecto a la salud y creación de un estilo de vida saludable para nuestros pacientes y sus familias.
Lesionado en un accidente? ¡Nuestra Quiropráctica y Centro de Terapia Física
lo puede ayudar!
Después del shock inicial que viene cuando está involucrado en un accidente, usted puede notar dolor, a veces no lo siente hasta días después. Debe ser evaluado lo más pronto posible para limitar la posibilidad de vivir con el afecto y dolor por largo tiempo.
Nuestro equipo profesional de quiroprácticos, terapia física y acupuntura en Wellness One ha atendido a pacientes en nuestra comunidad hace 35 años. Los médicos tienen experiencia extensiva trabajando con pacientes para identificar y tratar las lesiones relacionadas con accidentes de automóviles.
También superan en la preparación de evaluaciones particularmente médicas y legales y tienen relaciones con una gran red multidisciplinar de médicos y abogados local en caso de que los pacientes necesiten más tratamiento o asistencia.
No importa si viene por un dolor o lesión específica, o si desea mantener su bienestar, cuando visite nuestra oficina de East Rutherford, usted descubrirá que usted está tomando un paso conmovedor hacia mejor salud.
La oficina se mantiene centralizada y dirigida a el estilo de vida de nuestros pacientes con horario conveniente, de Lunes a Viernes desde temprano en la mañana hasta tarde en él día, los Sábados por la mañana estamos disponible por cita.
Hablamos varios idiomas (Inglés, Español y Polaco) con acceso fácil por automóvil o transporte público.
Servimos el área del sur del Condado de Bergen incluyendo: East Rutherford, Rutherford, Carlstadt, Wallington, Lyndhurst, Wood-Ridge, Hasbrouck Heights, North Arlington y Moonachie.
Llame hoy mismo y descubra los beneficios de cuidado de salud y su bienestar, 201-933-3040.
Contáctenos »


Wellness One of South Bergen | (201) 933-3040