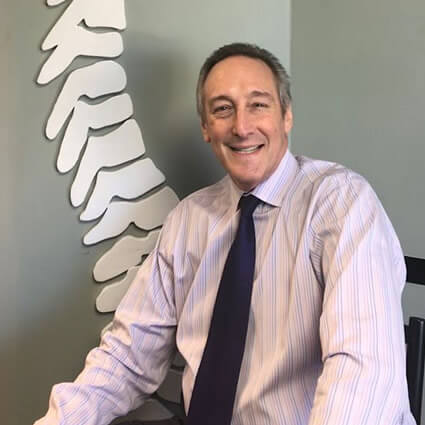 Meet Dr. Elliot P. Foster
Making Sense of Life with Chiropractic
After experiencing his own excellent results with chiropractic, Dr. Elliot decided to enter the natural healing profession. "It made perfect sense. I felt caught between spiritual and physical aspects of life. Chiropractic connected it for me." He attended Life University, where he took courses in anatomy and physiology that taught him about the perfect composition of the human body. "I realized there was something inherent in my body that had healing powers. It wasn't from an outside source; it had always been there." He achieved a Doctor of Chiropractic degree in 1981.
Another valuable lesson during his school years was a realization that success and doing the right things were synonymous. "Success comes when you do the right thing. It's not about making a living; it's about making a life. And the only way to make a life is to serve everybody." Dr. Elliot has founded a dozen different chiropractic offices, later selling them and deciding to put his focus into Wellness One of South Bergen. He's been in practice for over three decades.
Involvement in the Community
It's important to Dr. Elliot to give back, and he's involved with many area organizations. He is a board member and vice president of the Kipp Center, New Jersey's only federally accredited senior center. He's also on the board of directors for his synagogue and began our local Chamber of Commerce. One of his life's goals was to teach at a college level, which became a reality when he was a visiting professor at Fairleigh Dickinson University. He's also coached kids' sports teams in our area.
EXPLORE OUR SERVICES »
A Lifestyle of Health and Wellness
Dr. Elliot has three beautiful daughters who all practice a wellness lifestyle. He was a triathlete for many years, and is probably the only person you'll know who swam from Alcatraz the same summer he swam around the Statue of Liberty! Outside of the office, Dr. Elliot practices the life he preaches to his patients. He's passionate about music, the theater, opera and ballet. An avid reader, he devours 2-3 books a week and enjoys cooking and eating. "As long as I get in a mile-long swim every day, I'm a happy camper!"
We offer same-day appointments and welcome walk-ins. Contact us today to schedule an appointment!

Dr. Elliot Foster | (201) 933-3040